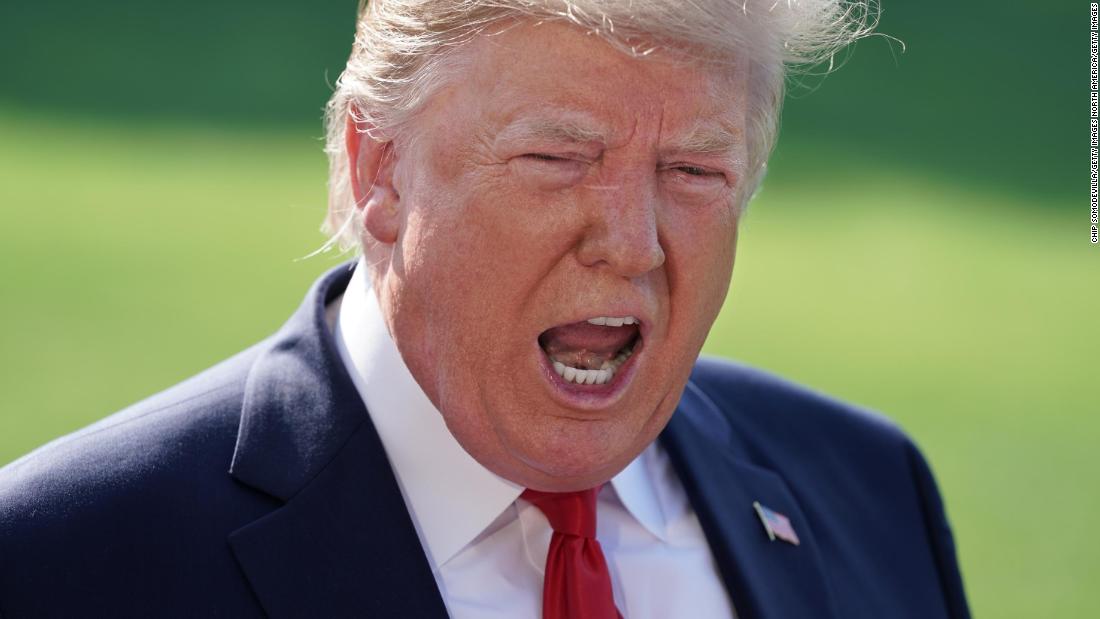 (CNN)Black state lawmakers in Virginia are planning to boycott an event commemorating the 400th anniversary of the first representative legislative assembly in the western hemisphere because President Donald Trump plans to attend.
The boycott from the caucus and other Virginia Democrats comes as Trump has continued his attacks against notable people of color. Over the weekend, Trump
attacked Maryland Rep. Elijah Cummings
, tweeting that his Baltimore district is a "disgusting, rat and rodent infested mess." Earlier this month, Trump — in racist language that was later condemned by a House resolution — told
four progressive Democratic congresswomen of color
to "go back and help fix the totally broken and crime infested places from which they came." Three of the four were born in the US, and the fourth is a naturalized US citizen.
The Virginia Legislative Black Caucus said that Trump's "repeated attacks on Black legislators and comments about Black communities makes him ill-suited to honor and commemorate such a monumental period in history."
"The VLBC will not in good conscience sit silently and support his inclusion in this event. It is impossible to ignore the emblem of hate and disdain that the President represents," the 20-member caucus said, adding, "Those who have chosen to attend and remain silent are complicit in the atrocities that he incites."
Trump on Tuesday appeared unbothered by the boycotts, downplaying it as "all a fix."
"That's OK. Well I think if that's the case I'd be shocked, but if that's the case, they're fighting against their people because the African-American people have been calling the White House. They have never been so happy as what the President has done," Trump said before his departure to Virginia. He added: "So you may have a couple of politicians boycott, but it's all a fix. It's all a fix. The fact is, African-American people love the job because I'm working for them."
After local reports that Trump would be attending Tuesday's events in Jamestown, top Democrats in the state legislature announced on July 19 that they "will not be attending any part of the commemorative session where Donald Trump is in attendance."
Norment in a July 20 statement called state Democrats' decision to boycott the events "disappointing and embarrassing."
Virginia Lt. Gov. Justin Fairfax, the state's most prominent black politician, will be in attendance.
Trump is scheduled to deliver remarks before the joint session of the Virginia legislature on Tuesday after touring the historical Jamestown Settlement.
The Virginia Legislative Black Caucus also announced Monday that it has arranged alternative events to mark the 400th anniversary, including a historic commemoration of the first documented arrival of slaves to Virginia.
Original Article : HERE ; The Ultimate Survival Food: The Lost Ways
Top Rated Products
Discover The Little Known Secrets Inside This Handy Guidebook Youll Be Able To Create A Well Written, Well Delivered Eulogy, And T[...]
The home assembly and crafts directory has 250 companies offering jobs on jewelry,sewing,woodworking,mailing circulars electroni[...]
The home assembly and crafts directory has 250 companies offering jobs on jewelry,sewing,woodworking,mailing circulars electroni[...]
How To Boost Energy And Productivity While Sleeping Less. How To Fall Asleep Fast, Beat Fatigue And Insomnia, All By Sleeping Less[...]
Online art lessons and classes in painting and drawing will helps you to draw and paint with the Paint Basket... Get everything yo[...]
Online art lessons and classes in painting and drawing will helps you to draw and paint with the Paint Basket... Get everything yo[...]