Spokesman said plotters also planned to bomb a government building, seize a Caracas air base and loot central bank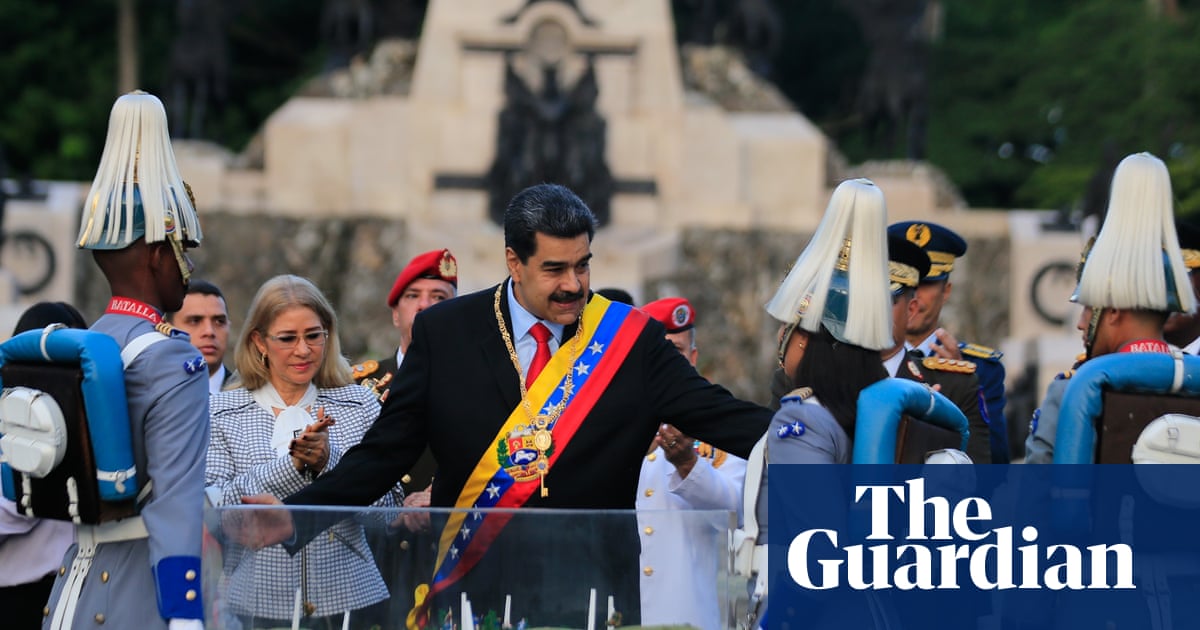 Venezuelan officials said that they have foiled a plot to overthrow the government that included assassinating President Nicols Maduro and his closest political allies.
Maduro spokesman Jorge Rodrguez said on state television that a network of mostly retired police officers and soldiers planned to bomb a key government building, seize a Caracas air base and loot Venezuelas central bank.
He also said the plotters wanted to edge opposition leader Juan Guaid from Venezuelas political landscape. Guaid, leader of the opposition-dominated National Assembly, is seeking to oust Maduro from power with backing from more than 50 nations.
Profile

Who is Juan Guaid?

The opposition leader Juan Guaid was almost unknown both inside and outsideVenezuelauntil the start of this year.

Guaid was made chairman of the national assembly in January because it was the turn of his party, Voluntad Popular (Peoples Will). At 35, he was a junior member of his party but its leaders were either under house arrest, in hiding or in exile.

He declared himself "interim president" that month, resting his claim on a clause in the constitution that allows the legislature to take power temporarily and call new elections if it deems the president to be failing to fulfil basic duties or to have vacated the post.

Guaid's relative obscurity initially proved an advantage in a country where the opposition hasgenerally failed to distinguish itself,losing its nerveat critical moments, succumbing to infighting, and getting involved in a failed coup against Hugo Chvez in 2002.

He inspired a huge wave of protests inside Venezuela with a message of peaceful change, and won widespread international support. Countries from Europe to the US and regional powers recognised him as Venezuela's legitimate president, handing him control of bank accounts and Venezuelan assets along with the formal recognition.

As months dragged on however, Guaid's hope of winning a wave of military defections that would end the rule ofNicolsMaduro seemed to fade, leaving his movement in an uneasy limbo – self-declared president but with no power.

He raised concerns inside Venezuela and internationally when he appeared to hint at the possibility of military intervention after a failed attempt to bring humanitarian aid into the country in February.

Questions have also been raised about the bedfellows Guaid has chosen in what he calls his bid to rescue Venezuela. His main international backer is Donald Trump.

Another key regional supporter is Brazils far-right firebrand president, Jair Bolsonaro, known for his hostility to human rights andhis fondness for dictatorship. Despite these characteristics, Guaid haspraisedwhat he called Bolsonaros commitment to and for democracy [and] human rights.

Photograph: Luis Robayo/AFP
Rodrguez said the purported network wanted to steal a helicopter to liberate Ral Baduel, a former defense minister now in jail and install him as president.
The government has claimed various plots over the years, generally offering little or no evidence to back its charges. The opposition contends Maduro uses such claims to justify his crackdown on dissent.
Guaid dismissed the latest claim as yet another attempt by the government to distract from Venezuelas real problems.
Maduro came under attack last August by two drones loaded with explosives, which detonated near the president while he spoke at an outdoor military celebration. He was not harmed in the attack, which officials called an assassination attempt.
Rodrguez charged that Colombian President Ivn Duque and Chilean President Sebastin Piera backed the purportedly thwarted coup plot, but he didnt provide evidence.
Rodrguez showed what he said were scenes from 56 hours of intercepted video conference calls with the alleged plotters hashing out strategy for the attack planned for June 23.
The spokesman said first lady Cilia Flores and Diosdado Cabello, leader of Venezuelas governing socialist party, were among those also targeted for assassination.
Original Article : HERE ; The Ultimate Survival Food: The Lost Ways