Valencia beat Barcelona 2-1 in the Copa del Rey final on Saturday, denying Lionel Messi the chance to lead his team to a fifth consecutive domestic cup success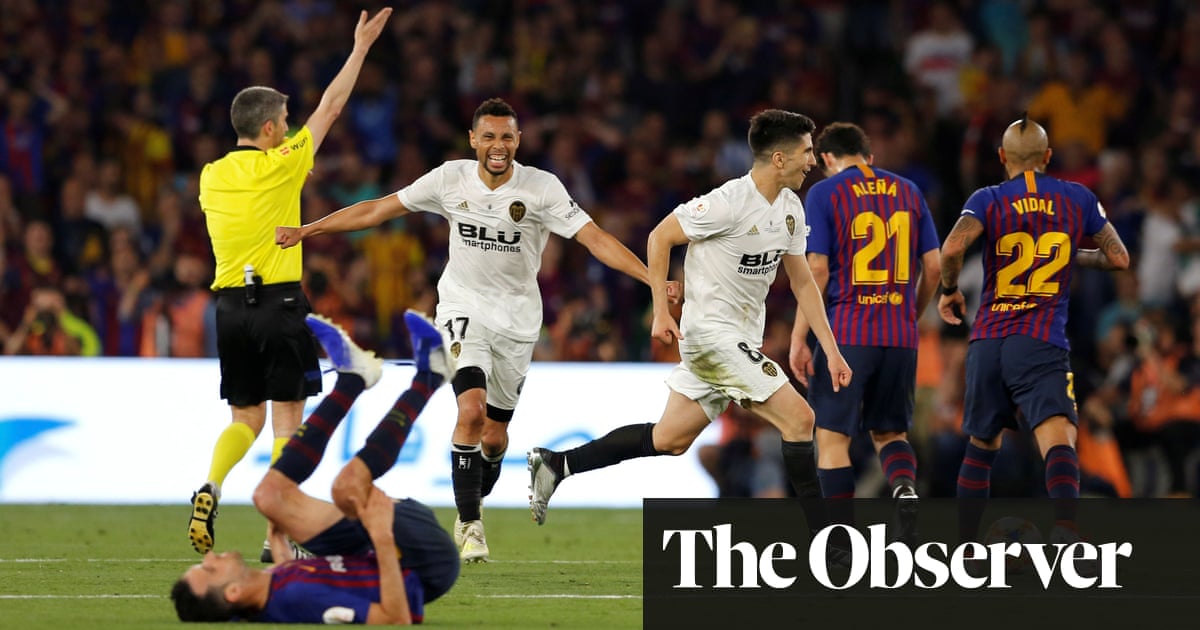 By the end here in Seville they could take it no more, but the suffering was worth it and they made it. Somewhere in the madness a whistle blew and Valencia became Copa del Rey winners. For the first time in 1,456 days, Barcelona are not the cup winners.
There will be consequences at the Camp Nou, changes. Lionel Messis second-half goal was not enough to cancel out strikes from Kevin Gameiro and Rodrigo Moreno and a league title is not enough for a club like this.
For Valencia, the cup is certainly enough. There was wild celebration; this was the culmination of a centenary year that for so long had been one to endure, but it ended in elation. What an occasion this turned out to be: on a knife edge, nerves shredded all around this stadium.
As the final minutes slipped by and players fell, exhaustion gripping everyone; the tension was unbearable with Barcelona throwing everything at Valencia. So much so that their goalkeeper, Jasper Cillessen, who had gone up for the last corner, was among those running back when Gonalo Guedes ran through all alone.
It was the second time it had happened, players, staff and coaches leaving the bench convinced that this was the moment. It was not Guedes shot wide of the open goal but eventually it was over.
Halfway through this season Valencia were only four points off the relegation zone and their manager, Marcelino Garca Toral, was under pressure. But the players backed him, the clubs director general too, and patience paid off. They clinched a Champions League place on the final day and now they are the cup winners too. Barcelonas fightback proved insufficient, their season too. Anfield hurt, Andalucia made that pain more profound.
Their problems had started early. Valencia might have had the lead after five minutes when Rodrigo ran through and round Cillessen only for Gerard Piqu to slide in and stop the ball on the line. But a pattern had been set Barcelona had the ball, Valencia used it and they did not have to wait too long for a second opportunity and this time they took it. Gabriel Paulista sent a long diagonal ball spearing towards the left wing where Jos Luis Gay controlled and pulled it back across the face of the Barcelona area. Gameiro took it in his stride, stepped past Jordi Alba and smashed it hard and straight into the net.
Piqu had stressed the importance of Barcelona getting the first goal and Messi had talked about the psychological impact of Liverpool scoring early at Anfield, a game still in their minds 17 days later. And while Barcelona did not collapse exactly, there was a familiarity about this for their fans. In the absence of Luis Surez and Ousmane Dembl, Barcelona were toothless, more dependent than ever on Messi. Yet this was not just about the forward line, where there was an empty space they depended on him everywhere.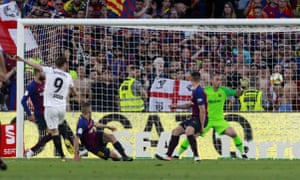 Original Article : HERE ; The Ultimate Survival Food: The Lost Ways