Two marches in Manhattan and many more around US as world marks 50th anniversary of the Stonewall rebellion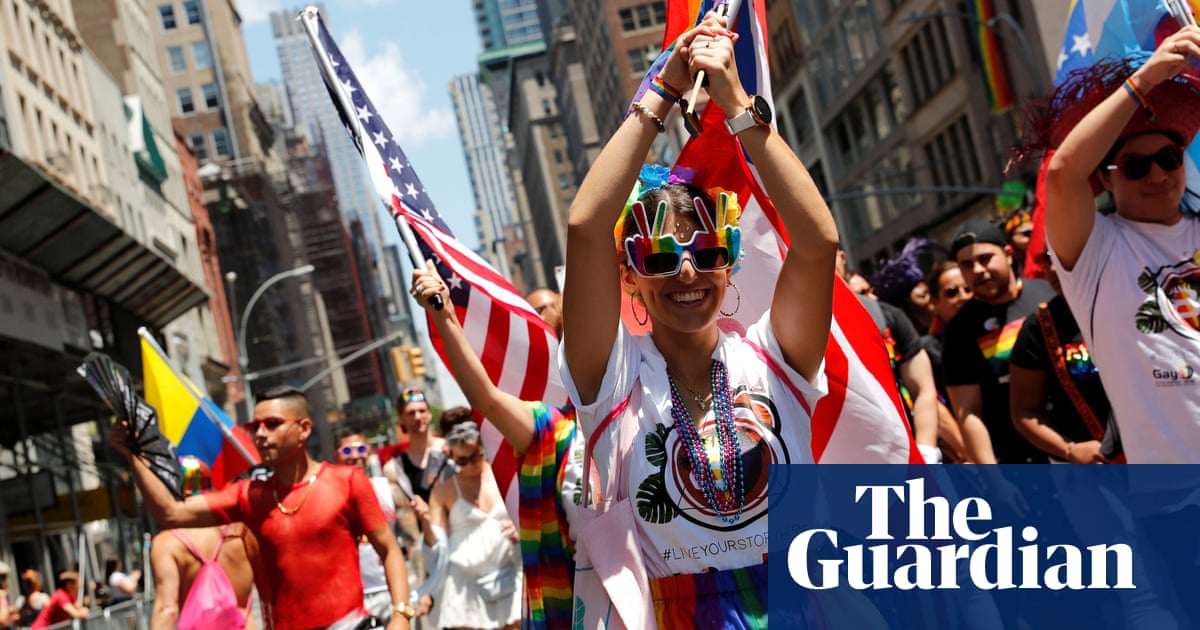 New Yorks massive LGBTQ Pride march kicked off Sunday with attendees cheering the cast of Pose, the FX show about late-20th century ballroom culture, and a car representing the activists Sylvia Rivera and Marsha P Johnson as the procession moved through Manhattan.
Cities including San Francisco, Chicago and Seattle were also hosting parades commemorating the 50th anniversary of the clash between New York police and patrons of the Stonewall Inn that sparked the gay rights movement.
New Yorks march kicked off at noon with nearly 700 contingents. Organizers expected 150,000 people to parade and hundreds of thousands more to line the streets to watch.
It was not the only show in town. A smaller Queer Liberation March started at 9.30am at the Stonewall, where patrons resisted a police raid in 1969, sparking the modern gay rights movement. They headed to Central Park for a rally.
The annual Pride parade has become a bloated, over-policed circuit party, stuffed with 150 corporate floats, the Reclaim Pride Coalition said in a statement. This does not represent the spirit of Stonewall in this 50th anniversary year.
The second march was one visible sign of tensions within the LGBTQ community as, later in the day, was a protest which briefly blocked the route of the parade in San Francisco.
Brendan Fay, a civil rights activist who successfully fought a long battle for LGBTQ inclusion in the New York St Patricks Day Parade, said he would participate in both events.
The founder of the Lavender & Green Alliance, which celebrates Irish LGBTQ culture, Fay told the Guardian corporate participation in Pride reflected progress but Reclaim emphasized community elders grassroots efforts to effect change.
The legacy of Stonewall is about people, Fay said, not about corporate participation.
Charles Kaiser, author of The Gay Metropolis, acting director of the LGBTQ Public Policy Center at Hunter College and a Guardian contributor, also participated in both events. He said they showed that positive change is possible and that participants must keep working to achieve it.
The most important thing is that the mass of humanity in the streets today proves that it is possible to imagine a different world and create it within your own lifetime, Kaiser said.
I hope everyone will remember that its never been more important to imagine a different world than it is right now and that it is the duty of everyone celebrating today to dedicate themselves to getting rid of the most loathsome president of my lifetime and put the American government back into the hands of decent, honorable, loving people.
Kaiser said the two New York marches spoke to tension which has existed in the movement from the very beginning between a desire to be as fully integrated into the majority of society as possible, and the desire to see the movement as a way to celebrate how different we are.
I think the tension is healthy. I think both things are important.
Jessie Page, an 18-year-old parade participant who identifies as gender queer non-binary, said Pride offered an open and accepting place where nobody judges you. You get to express yourself freely. Now that its 2019 and the world is changing, we get a big celebration to honor us regardless of the presidency.
Savannah Lopez, also 18, told the Guardian: I havent been to Pride before and Im actually coming out [as bisexual] today to everybody that I know I just thought this was a really good way to do it. It feels really liberating. It feels very freeing.
It feels really great to not feel like you have to pretend anymore.
On Saturday, the New York City Pride Run reportedly set a world record with 10,000 finishers in Central Park. On Sunday Flemington, New Jersey mayor Betsy Driver, considered the first openly intersex person voted into public office in the US, was a grand marshal of the main parade.
The New York police department, which earlier this month apologized for Stonewall, said that there had not been any credible threats against the main march.
The LGBTQ community is an essential part of NYC, said NYPD commissioner James ONeill.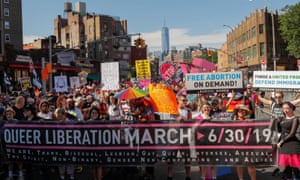 Original Article : HERE ; The Ultimate Survival Food: The Lost Ways