Max Verstappens Red Bull won the F1 German Grand Prix in treacherous wet conditions after Lewis Hamilton made an error while leading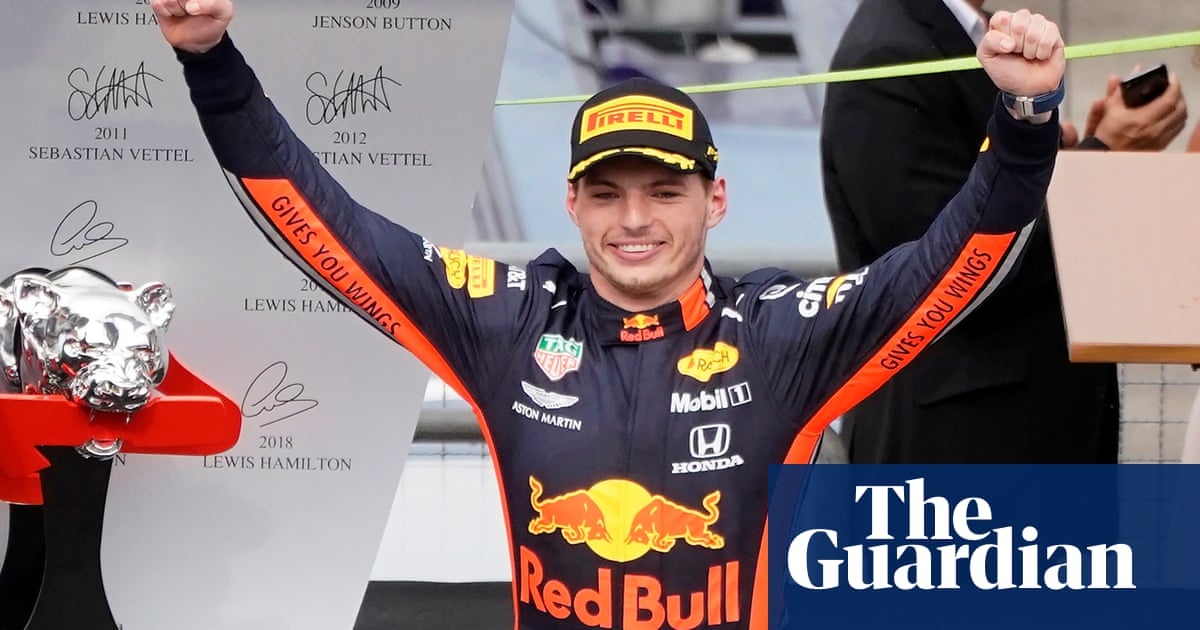 What was supposed to have been a homecoming celebration for Mercedes turned to ashen-faced defeat rarely experienced in their dominance of Formula One over the past five years.
During that time the German team have stood astride the sport almost as deities but under foreboding, grey skies the team principal, Toto Wolff, was moved to apocalyptic imagery, describing it as an armageddon weekend.
Red Bulls Max Verstappen took the win, as impressive and controlled a drive as the 21-year-old has delivered in his career, in treacherous conditions that caught out drivers far older and more experienced. He did so in what was a wildly unpredictable and captivating race that forced teams and drivers to think on their feet.
Some managed it with aplomb, others were found wanting. That the most senior should be the world championship leader, Lewis Hamilton, his teammate, Valtteri Bottas, and Mercedes was entirely unexpected. Hamilton finished in 11th, having hit a wall, although he was later promoted to ninth after the Alfa Romeos were given 30-second penalties for torque irregularities. Bottas crashed out, losing his car through turn one six laps from the end while in fourth place. Their teams strategy calls had cost both drivers and left Hamilton, who had led from pole, wondering how he had to finished so far adrift.
This was Mercedes 200th grand prix as a constructor in what will probably be their last home race for some time, with Hockenheim highly unlikely to be on the calendar next year. The teams intent was to go out in style and they were doing so more publicly than usual having allowed Netflix cameras access over the weekend for the second series of their F1 documentary.
Their footage will be unmissable. Yet as the race went away from Mercedes they were left looking, by their own standards, amateurish. The first third had gone according to plan, despite the rain, but Hamilton, usually so strong in the wet, found his touch deserted him on slick tyres when he followed Ferraris Charles Leclerc into the wall at turn 16. Leclerc was out and, while Hamilton kept going, a damaged front wing meant he had to stop.
Hamilton said the turning point had been the decision to fit him with slicks, convinced he should have stayed on intermediates. The race had indeed turned as he immediately veered across the track into the pits. The stop was painfully slow, taking 50 seconds because the team were unprepared. The sight of Mercedes mechanics scrabbling about for the correct rubber was unprecedented. By the time he emerged he had dropped to fifth and the Dutch fans erupted as Verstappen took the lead. Worse still for Hamilton, he was given a five-second penalty for his late entry into the pitlane.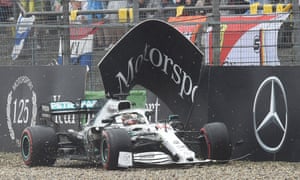 Original Article : HERE ; The Ultimate Survival Food: The Lost Ways
The best offers on the market today:
Get 250+ Daily Website Visitors On Complete Autopilot in ANY Niche with 100% Real FREE Traffic
Wunder Der Schwangerschaft (tm) : Pregnancy Miracle(tm) In German!
Rockstar Money Makers
Make Money From Youtube Without Creating Your Own Videos!
Bakteriellevaginose.com - The German Version Of Bvcures.com