Armed antifascists groups say they want to protect events from other malicious and potentially armed groups a phenomenon that is becoming more and more common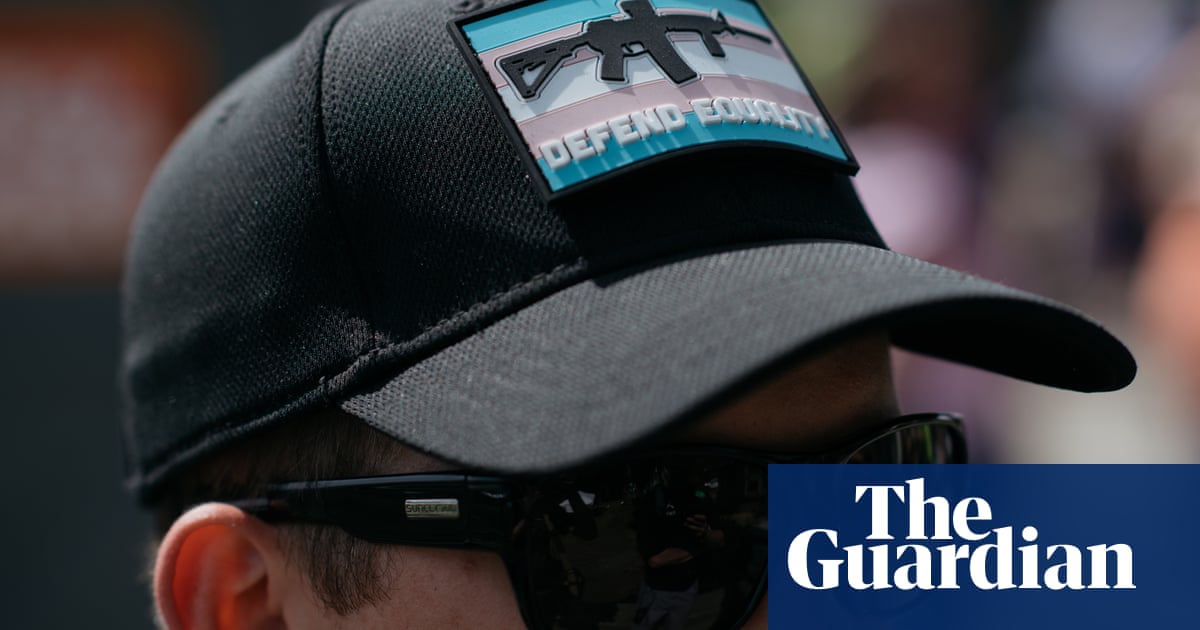 The van lumbered down one of Seattles many steep hills. A half dozen people packed inside but despite the heat, most wore long pants and boots, and several sported black hoodies. The atmosphere was subdued, except for the occasional joke. It wasnt so much tension as seriousness there was work to be done.
The people in the van are members of the Puget Sound John Brown Gun Club (PSJBGC). Their stated aim is to fight white supremacy and build community defense in Americas Pacific north-west, and their presence has become a fixture of protests in the Seattle and Tacoma areas, where the group is often invited to provide security against rightwing aggression.
The night before, several of them had been called to a library in nearby Renton, Washington, where a Drag Story Time Hour, an event series in which a local drag queen or drag king reads to children in a library or bookstore, was being disrupted by rightwing protesters. The protesters, who opposed the event as immoral, held up signs equating drag with pedophilia, and screamed Shame! Shame! at parents and their kids. Among them were members of the Proud Boys, a violent rightwing street gang, and Three Percenters militia, who were open-carrying firearms.
The north-west has been at the center of tense political clashes over the last two years. The area is an adopted home base for far-right groups like Patriot Prayer, Identity Evropa/American Identity Movement and the Proud Boys, who have organized numerous marches that have ended in violence. In response, a range of leftist groups have organized self defence groups and, in doing so, present gun ownership as a way to protect themselves and others.
Now, the Puget Sound John Brown Gun Club was en route to Seattles Trans Pride March.
In the weeks prior, word spread that a number of white supremacist groups had planned to disrupt the celebration. Hearing this, the club reached out to the organizers of the event, the Gender Justice League, and offered to assist with security or to provide escorts.
Brooke Wylie, the head of security for the Gender Justice League in charge of overseeing the 101-person security detail for the event, did some research on the club. She told them the event had a policy of having no open carry(that is, no visible weapon), which they were fine with. She accepted their offer. Police were also present, but many marginalized groups do not trust them to provide protection at public events, especially when far-right groups are involved.
Each member showed up with a concealed handgun. We do our actions proportional to the threat, so when other people are out with rifles, well be out with rifles, Nick, the groups de facto spokesperson, explained. In this case, we dont want to appear threatening for the people that were trying to protect and support; we want this to be a happy atmosphere, especially for a population that may have faced gun violence on the street just for being who they are.
This scenario in which armed community groups are working together to patrol a Pride event and protect it from other malicious and potentially armed groups is becoming more and more common. There are more guns than people in America approximately 393 million in a country of 328 million people. An average of 34,501 people died each year from firearms; in 2018, 992 of those deaths were the result of police shootings.
And the memory of the Pulse nightclub shooting in 2016, when 49 people were killed at a mass shooting at a gay nightclub in Florida, is still hanging heavily over the LGBTQ community.
Original Article : HERE ; The Ultimate Survival Food: The Lost Ways
Recommended articles:
-->
Sense Drill - Reseller - without bonus
-->
TweetPush Agency Elite
-->
Satellite TV Software
-->
Fast Hidradenitis Suppurativa Cure (tm)+3 Months Consultations+BONUSES