Greg Rutherford and Dawn Fraser backed two swimmers who refused to share a podium with Sun Yang, the Chinese champion who has served a drugs ban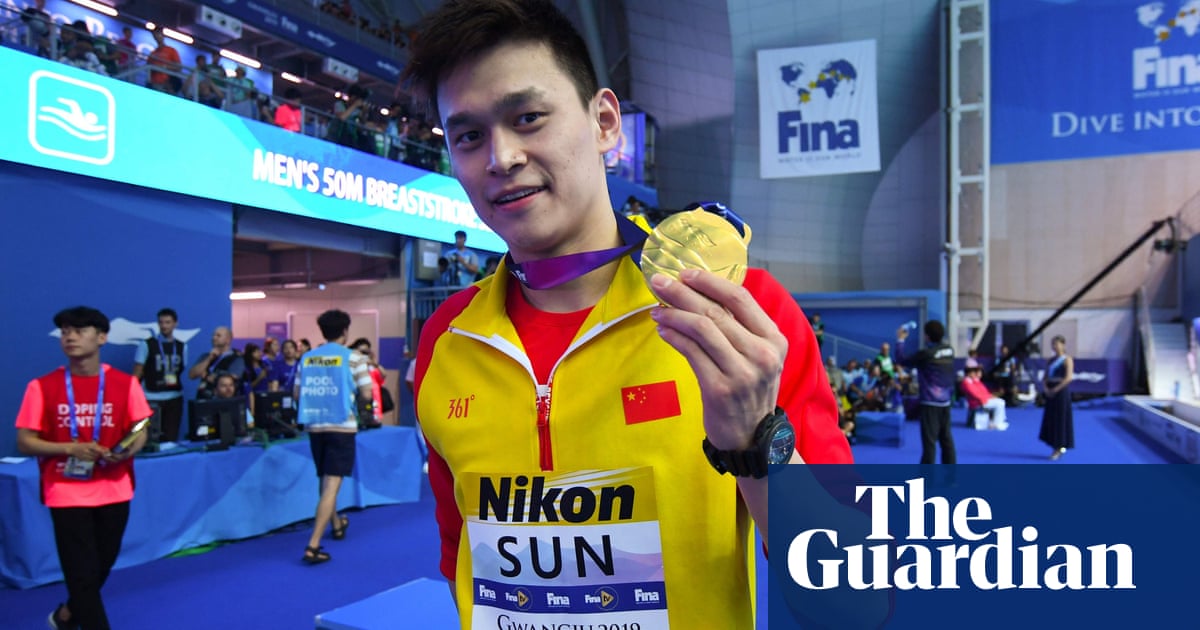 The British Olympian Greg Rutherford and Australian swimming legend Dawn Fraser have become the latest to offer support to Britains Duncan Scott and Australias Mack Horton, who refused to share a podium with the Chinese swimmer Sun Yang at the world championships in South Korea.
The Olympic champion in three different disciplines has served a three-month ban for the use of banned substances. He is also awaiting a hearing at the court of arbitration for sport after he refused to give a urine sample at a drugs test.
Scott finished third behind Sun in the 200m freestyle in Gwangju on Tuesday but refused to take to the podium. Sun took gold only after the apparent winner, Danas Rapsys of Lithuania, was disqualified for moving on the blocks at the start. The Britons action provoked an altercation in which an agitated Sun was seen to confront Scott, calling him a loser.
I think what Duncan did was the right thing, said Rutherford, who won gold in the long jump at the 2012 Olympics in London. Each athlete should be allowed to have their own form of protest and we need more athletes to stand up and say letting drugs cheats back in is not the right thing.
Adam Peaty said Scott was completely right to make a stand. Scott followed the lead of Horton, who also protested Suns success in the 400m freestyle on Sunday. Both swimmers received a letter from Fina warning against their conduct.
Asked for her reaction to Suns behaviour, the triple Olympic 100m freestyle champion Fraser said: If I had been there, I would have kicked him in the backside.
The 81-year-old thought Sun should not be competing in South Korea. Hes got a Cas hearing in September and I feel Fina should have stepped him down until that court case is over, she added.
Sun, the first man to claim gold in the pool for China, was disqualified from competition in 2014 for the use of the drug trimetazidine. He was given only a three-month ban, the sentence reflecting Suns insistence he had used the drug to treat a heart problem and was unaware it had been added to a list of banned substances earlier that year.
A favourable verdict was also handed down by Fina after Suns refusal to comply with requests for an out-of-competition drugs test last autumn. He arrived late to the test and while Sun gave testers a blood sample, he refused to provide any urine, claiming the collection officers credentials were insufficient. His bodyguard then destroyed a vial containing Suns blood with a hammer, according to a Fina report leaked to the Sunday Times. A Fina panel found for Sun, agreeing the officer had provided insufficient credentials and it imposed no penalty.
The World Anti-Doping Authority has appealed against the decision to Cas. If the appeal is upheld, Sun faces a lifetime ban.
Sun is unpopular within the sport, not just for his violations but for a perceived arrogance and confrontational approach in the pool. His relationship with Horton has been fractious for years, including an incident at the 2016 Olympics in Rio when the Australian accused Sun of splashing him in a training session. After beating Horton on Sunday, Sun milked the moment, lingering in the pool and slapping the surface in celebration. He has been booed by the Korean crowds throughout the championships. On Wednesday his bid for glory in the 800m freestyle fizzled out as he trailed home in sixth.
It has also been observed, however, other athletes have not been met with the same criticism. Thomas Fraser-Holmes was banned for a year in 2017 for missing three drugs tests in 12 months. A compatriot of Hortons, he has returned to the Australia team in Gwangju but without controversy.
Some see the outcry against him to be a timely one, the sport of swimming uniting to take a stand against doping. Others note double standards, with Sun taking the heat for Finas shortcomings. Regardless, the 27-year-old is a star in China and no sport will lightly jettison the chance to make headway in his home country. As Sun said to Horton: You could choose not to respect me but you must respect China.
Original Article : HERE ; The Ultimate Survival Food: The Lost Ways
The best offers on the market today:
Get 250+ Daily Website Visitors On Complete Autopilot in ANY Niche with 100% Real FREE Traffic
Dr. Joe Vitale's Attract Money Now Meditation
IM With Jamie 2019: Over $1,000,000 Paid To Affiliates! Get $339/sale!
Modern Love - Dating And Relationship / Get Your Ex Back
Online course: Win Back Your Ex